Facility Rental Price Increase
Beginning January 1, 2024 the price for park pavilion and building fees will increase. All day rental fees for City of Cortland residents will be $150 and all day rental fees for non-city resident will be $175 for the Beaudry Park Building, Burch Building, Rotary Shelter, and all Yaman Pavilion.
There is a $100 refundable deposit for all rentals, due at the time of key pick up. Cash deposits only.
Greek Peak Ski & Snowbaord Club
Ski Club Days: Wednesday's
1/10, 1/17, 1/24, 1/31, 2/7, 2/14
Bus Pickup: 3:30p @ St. Mary's, Smith, & Randall
Bus Drop Off: 7:30p @ Barry
Ski Times: 4:00p-7:00p

Program Pricing:
3 hours, 2 lessons
on or before 11/01/23: $170
11/02/23 or after: $190

Add On's: helmet & equipment rental $70
Meal Plan: 6 meal credits $75

Register at www.GreekPeak.net

Play>Lessons and Programs>School Programs>Select 'Cortland Youth Bureau'
Register for Ski Club transportation on our website under programs. No fee for transportation this year.
Questions related to ski club? Contact Greek Peak Program Sales - programsales@greekpeakmtnresort.com
Jim Partigianoni Scholarship Fund
*Effective 2/1/2023, new scholarship application and guidelines*
PURPOSE
The Jim Partigianoni Scholarship fund is meant to assist those who would not normally be able to participate in recreation programs by supplementing the program fees with scholarship funds made available for Cortland County residents.
ELIGIBILITY CRITERIA
• Must be a Cortland County resident
• Must be for a child between the ages of 6 months and 14 years
• Must meet the financial qualifications (can be found back of scholarship application)
• Must have a complete application on file prior to registration in the program
APPLICATION
Applications are available at the CYB office, and online. Applications must be submitted prior to program registration, and include all required documentation. Applicants will be notified about scholarship status once reviewed. All funds are on a first come first serve basis. The CYB reserves the right to deny a scholarship. Approved scholarships are valid for one year from date of acceptance.
DONATE
To make a donation to the Jim Partigianoni Scholarship fund and provide our youth the opportunity to participate in recreation, athletic, and art programs simply send a check to Cortland Youth Bureau, 35 Port Watson Street, Cortland, New York 13045 with 'scholarship donation' in the memo line. All donations will benefit youth in Cortland County directly.
To view the application click here
Gutchess Lumber Sports Complex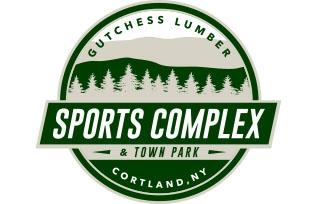 Late Fee's and Refund Requests
Late Fee Policy
Any registration after the start of the program will incur a $10 late fee charge.
Program start date is listed in each program on RecDesk.
Exception: Fun For Tots, ongoing program
Refund Policy
Any refund requested before the program begins will be granted a full refund, minus a $5 processing fee.
Any refund requested after the program begins will be granted half the program fee, minus a $5 processing fee.