Lifeguards starting at $16 an hour...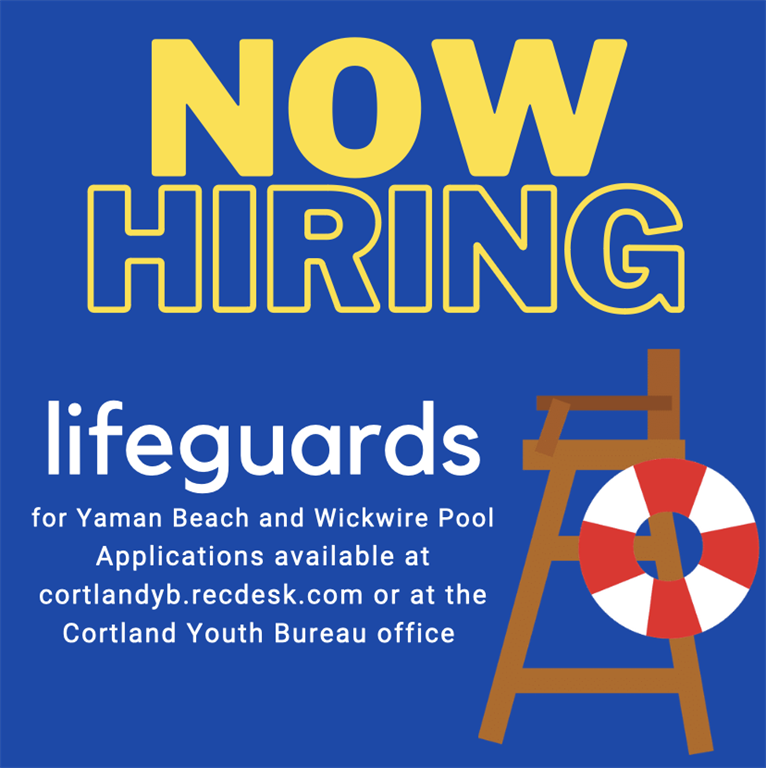 Job Description:
Applicants will be expected to carry on all life guarding duties including: lifesaving, pool and beach supervision, handling any discipline problems, general first aid, and any other additional duties outlined by the staff manual. Applicants will be expected to be available to work Monday, May 22 through Sunday August 20 with 40 hours a week expected. High school students will work only weekends until school releases for the summer. Facility hours are 10:45 AM – 7:15 PM at Yaman Beach and 11:45 AM – 7:15 PM at Wickwire Pool seven days a week. Head lifeguard hours may vary based on aquatic programming at each facility.
Minimum Qualifications:
All applicants must have current American Red Cross Lifeguard training, Waterfront module, Community First Aid & Safety, and CPR for the Professional Rescuer.
Important dates
Staff Orientation: Thursday, May 18 at 1:00pm
Yaman Pre-Season: Monday, May 22 - Friday, May 26
Yaman Opening: Saturday, May 27, 11:00am - 7:00pm
Wickwire Pool Opening: Saturday, June 24, Noon - 7:00pm
Pay scale: biweekly paychecks
Lifeguards: $16/hour
Assistant head guard: $17/hour
Head guard: $18/hour
Jim Partigianoni Scholarship Fund
*Effective 2/1/2023, new scholarship application and guidelines*
PURPOSE
The Jim Partigianoni Scholarship fund is meant to assist those who would not normally be able to participate in recreation programs by supplementing the program fees with scholarship funds made available for Cortland County residents.
ELIGIBILITY CRITERIA
• Must be a Cortland County resident
• Must be for a child between the ages of 6 months and 14 years
• Must meet the financial qualifications (can be found back of scholarship application)
• Must have a complete application on file prior to registration in the program
APPLICATION
Applications are available at the CYB office, and online. Applications must be submitted prior to program registration, and include all required documentation. Applicants will be notified about scholarship status once reviewed. All funds are on a first come first serve basis. The CYB reserves the right to deny a scholarship. Approved scholarships are valid for one year from date of acceptance.
DONATE
To make a donation to the Jim Partigianoni Scholarship fund and provide our youth the opportunity to participate in recreation, athletic, and art programs simply send a check to Cortland Youth Bureau, 35 Port Watson Street, Cortland, New York 13045 with 'scholarship donation' in the memo line. All donations will benefit youth in Cortland County directly.
To view the application click here
Gutchess Lumber Sports Complex