We're hiring!
The Cortland Youth Bureau is seeking a dynamic individual to join our organization as a Recreation Supervisor. One full time position, with benefits. Typical work activities include but not limited to: PR, plan, organize, direct and supervise both recreation programs and youth services at the Youth Center. Hire, train, and supervise personnel. Successful candidate will possess excellent communication skills, self-directed, and ability to multi-task. Good knowledge of principles and practices of recreation administration and strong computer skills. Bachelor's degree or higher; or Associate's degree and two years full time paid experience. Submit civil service application and resume to: Cortland County Personnel Civil Service, 60 Central Ave, Cortland, NY 13045 by May 27 at 4:00pm. Applications can be obtained from cortland-co.org.
Closing date: May 27, 4:00p.
Fire Camp 2022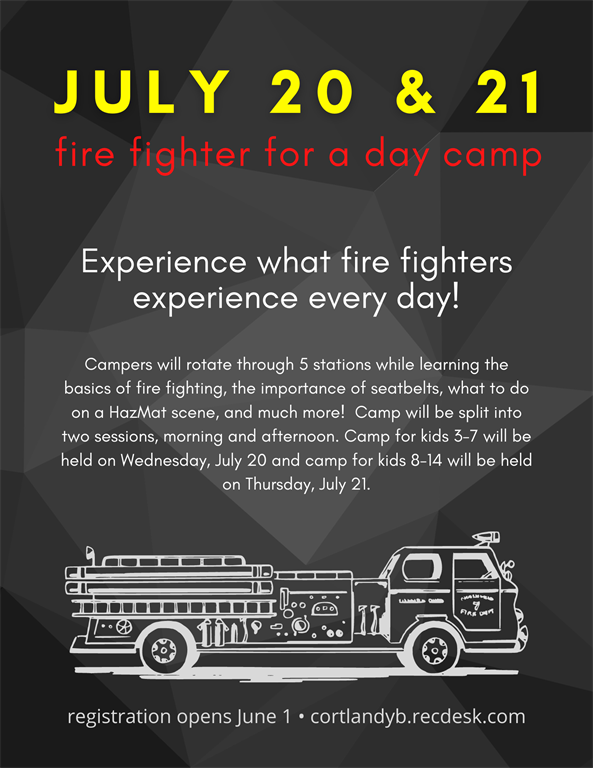 Registration opens June 1 at 6:00am
CCYSA Summer Soccer
The CCYSA summer soccer program is a recreational, youth, outdoor soccer program intended to introduce and instruct young players on the fundamentals of soccer in an encouraging atmosphere. Practices begin late June with 8 games played from mid July to mid August. Games will typically be on Monday and Wednesday nights (boys) or Tuesday and Thursday nights (girls). Information such as rosters, schedules, and field locations will be posted on the CCYSA website at ccysasoccer.org. Games will be played in Homer or McGraw.
Registration for all participants (including Homer residents) will be held on the CYB website in 2022, starting April 1.
Gutchess Lumber Sports Complex
CYB and InclusionU
Proud to partner with the Inclusive Recreation Resource Center to provide programs and facilities for people of all abilities.